Podcasting
Many schools have begun to use audio recording as a means of sharing information and getting students to present orally. Free recording software such as Audacity has made this available to students from kindergarten to senior secondary. It has been used widely in many curriculum areas such as LOTE, English, Music etc
Podcasting is the new wave of sharing digital audio. Wikipedia defines podcasting as:
"Podcasting, a portmanteau of Apple's "iPod" and "broadcasting", is a method of publishing files to the Internet, allowing users to subscribe to a feed and receive new files automatically by subscription, usually at no cost. It first became popular in late 2004, used largely for audio files."
The resources on this page are intended to assist teachers in their implementation of audio recording and integration into the curriculum - using a podcast format.
---

Listening to Podcasts
As described above a podcast is based on subscribing to a podcast. There are many software applications capable of this however the most widely used is Apple's iTunes software. To subscribe to a podcast first find a web site that has the logo representing a podcast "feed" or subscription. Most commonly it looks like this -

or this

Right mouse click and "Copy Shortcut." and paste into iTunes as follows..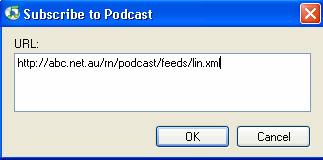 ---
Broadcasting Concepts
Before getting students to prepare audio for podcasting Kerrie Mackey-Smith from Le Fevre high school has ensured that broadcasting concepts are made clear to students. Her background in broadcasting makes her input invaluable for other teachers who would like to prepare their students. The following audio recordings can be freely downloaded as a teacher resource - and thanks to Kerry for her work and input.
Kerrie's voice was recorded using the Samson usb condenser microphone - a very good choice for recording high quality audio at an affordable price - around $170 - Mac or PC and no drivers needed. Available from Music Ednet - Ph 8270 1355



Portable recording options include flash based voice memo devices such as those from iRiver or iPod based microphones suitable for the video iPod generation of devices as shown below. The microphone on the left is the Xtreme Mac MicroMemo and on the right is the Belkin TuneTalk microphone.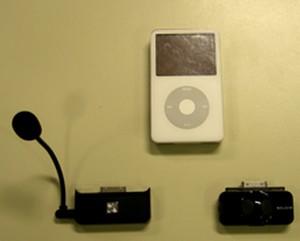 For high quality portable recording the Edirol R-09 shown below is a very good option. This is particularly useful when recording music performances.

---
Hosting on Educonnect

Getting your podcasts hosted on your school web site - using the Educonnect network, requires a few steps that have now been kindly documented by Nathan Grimaldi and Rhys Williams in this Word Document. This approach has been used at Magill Primary School where they use Apple Mac computers and the Garageband software to record and edit their podcasts. They use iWeb to create the web page and then ftp the files to the school web site. The final step is to link to the uploaded pages - see the Magill PS example shown below.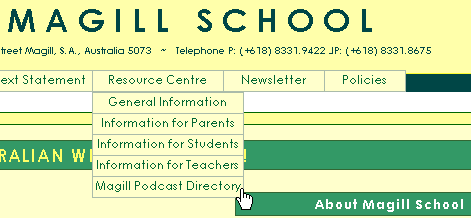 ---
Free web hosting of your Podcast files - PodoMatic
Create your own xml files Podifier
Understanding the technical details can help clarify the steps required to successfully set up your podcasts. For example making the xml or rss file

---
Michael Cowling has been working on his podcasting skills and you can see the results at http://web.mac.com/michael_cowling
John Travers has begun a series podcasts with a focus on pedagogy and a discussion based on "What multimedia literacy is about".
Mike Seyfang has been podcasting for quite some time and has gathered some great tips for budding podcasters. For example Doug Kaye is recommended by Mike as a source of really helpful information - www.itconversations.com/shows/detail834.html Mike's blog makes interesting reading at http://mikese.spaces.live.com/PersonalSpace.aspx?_c02_owner=1

Email:Jim Edson