To view the .wmv movies below you will need Microsoft Media Player


Student Examples
The Lonely Ghost 1.2Mb .wmv file
The Lonely Ghost
3Mb .mpg file
The Lonely Ghost
19 Kb Word Doc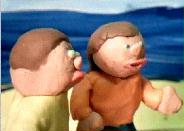 Merlin 4Mb .mov file
Merlin 19Kb Word Doc
---
Seaview Downs PS curriculum focus - The Seven Wonders of the Ancient World
Monday Morning
5.3 Mb wmv file by
Steve and Pete
Indonesian Language
6 Mb wmv file by
Georgia and friends
German Language
3.8 Mb wmv file by Rose and Molly
RSPCA
1.3Mb wmv file by Lauren and Jack
Two Dogs
920Kb .wmv file by
Paul and Jane
Black and Orange
2.6 Mb .wmv file
by Dani and Ali
Birth of the Blob
1 Mb .wmv file by
Hewina and Malcolm
Postman Fat
1.4 Mb .wmv file by Angus, Tim and Duncan - Year 5 Glen Osmond PS
Arty Flowers
2.75 Mb wmv file by Barb and Clint

Clay animation is an exciting technology that captures the imagination of students of all ages. Story telling can literally be brought to life and students will have a new zest for creating inventive stories. The tools to achieve high quality clay animation were once beyond the reach of schools but now the tools are either free or very inexpensive. Learning Technologies has developed a training program with ICT coaches who can train teachers in the use of clay animation across the curriculum.
These pages are intended to show how students and teachers in schools can use clay animation as a creative tool that incorporates a wide variety of learning areas. For example students can create and record music and sound tracks, use a variety of visual arts techniques for creating sets and backdrops and use clay figures to tell digital stories.
The process for developing animations involves the following:
Storyboarding ...Set and character design and building....Image capture....Sound and music production......Putting the elements together
The steps outlined above are explained on the Animation Links Page
You will require a stage with stage floor and backdrop. We have designed a stage set up with A4 size paper for the main dimensions. This means that the movie will be roughly a 4 by 3 aspect ratio required for movie making and a cheap source of paper for artwork creation.
Clay is available from a variety of stores.
All course notes can be printed using this pdf document.
There are several hardware and software requirements for getting animation happening in the classroom.
Click here for Audacity -freeware Audio Editing software

For Animation software and hardware see below.....
---

For Windows Operating Systems
---

For Macintosh Operating Systems